Volunteering @ #IWDK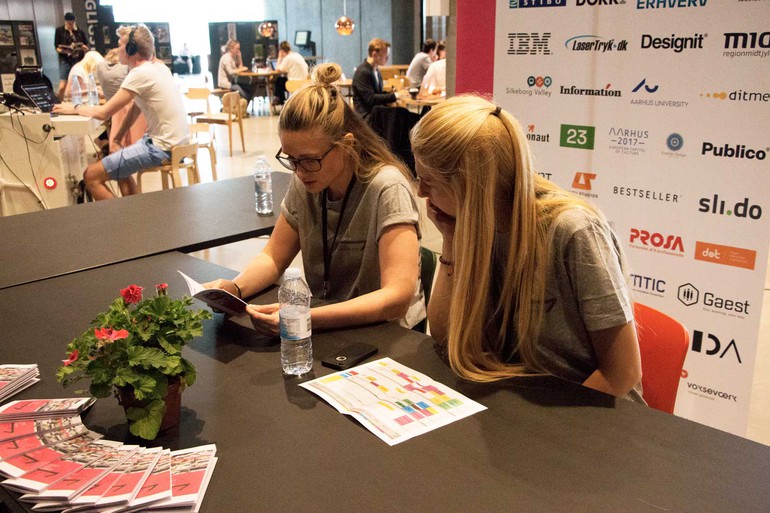 They are welcoming you every day as you walk through the doors of one of the biggest event here in Aarhus, Internet Week Denmark. They take care that you are well informed and they help keeping things under control. This bunch of enthusiastic young people are #IWDK volunteers.
Why volunteering for Internet Week Denmark?
The overall focus of the third edition, the extensive list of speakers and the topics discussed during debates, workshops and hackathons had attracted people willing to put in a lot of work with a big smile on their faces. The volunteers are working as journalists (writers and visual reporters covering various topics) and guides who are in charge of welcoming and registering the participants and handling all the information related to the events' location.
For me, the topic, the influence of digitalization on businesses and everyday life is very appealing. Having a background in journalism and communication, I am always interested in new media and the advancement of new communication technologies. Moreover, the opportunity for networking, derived from the prominence of the event, is, for me, another point of attraction. Being a foreigner in Denmark, I have learned that connecting is not easy. Working as a volunteer for various events represents a good way to get to know interesting people, make contacts which might lead to future collaborations and also have fun.
The possibility of networking is also the reason why Naomi decided to join the team of journalist volunteers @ #IWDK:
"I decided to come and help out with Internet Week Denmark because I am not Danish and I thought this will help me get to know Danish businesses and possibly find a job".
For other volunteers, this experience, which started as a school assignment, is in fact an opportunity to do what they like. Kinga volunteered to work as a guide because she is a people person and she likes interacting with different people.
"For me it is a new opportunity. I like it very much and I am having so much fun!"
Dovile is a volunteer photographer:
"A month or so ago, we had a presentation about this event and I was fascinated. It is quite interesting."
Reka also heard about Internet Week Denmark from her school. She was very impressed with the photography workshop she attended in preparation of this event. "It is really great to work with my team and take pictures at this event."
Doing it the second time around
Although the large part of the 60 volunteers are working for #IWDK for the first time, there are a couple of people who have tried this before. Michael, an IT geek as he likes to call himself, is doing this for the second time. He came back to work for two reasons: "First of all, I have a background in IT. So every opportunity I get to be around IT expos and events, I grab it. The other reason is because I am unfortunate enough to be in IT in Denmark which means that there are few job opportunities right now. I am also unemployed which frees a lot of my time so I have nothing to do but this." Furthermore, Michael says he likes to help out, to network, to meet new people and this event gives him the possibility to do all that. "In fact, I have a whole bunch of reasons to do it and none to not do this."