The democracy of the future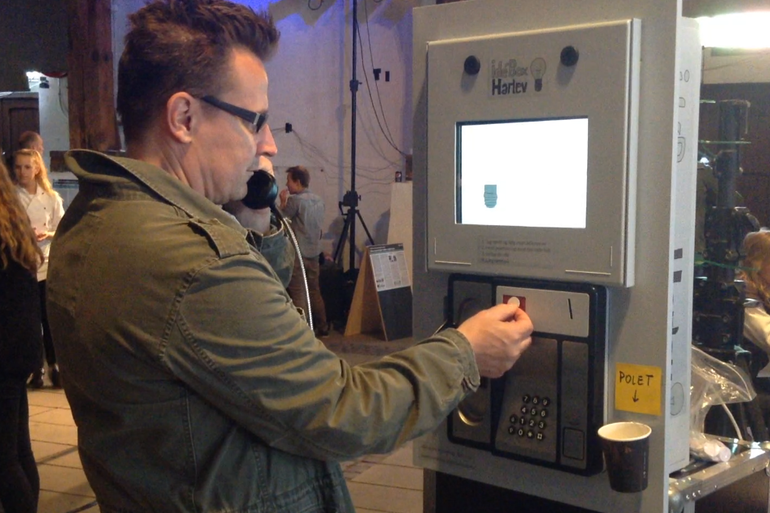 Civil engagement has never been easier than it is now thanks to the digital progress. The Digital Neighbourhood project enables a new level of democracy.
Digital Neighbourhood is a project that aims at enabling co-creation process in which the citizens can easily take part in the decision making in their districts. By using the means of modern technology and programming, the citizens are engaged to state their opinion. The goal is to make this process easy for people in all group ages and thereby encourage the democratic decision making.
The role of technology

In the showcase in the Internet Week Denmark the project presents a prototype of their machine that can be used for this purpose. It resembles an old school phone which should be placed in a frequently visited place in the neighbourhood. The citizens can use it to record their ideas that later will be categorized by the team and eventually will take part in the voting process. This way not only everybody is able to state their opinion, but also the idea with the most citizen support will win. The process is also very transparent, because citizens can follow their ideas online. Technology is used to enable discussion and a new level of democracy. Thanks to the Digital Neighbourhood project everyone voices their opinion and not only the few ones engaged in citizen meetings.
Watch the video to learn how easy the process is!
The future is now

At the moment the project is used in Harlev, a town situated next to Aarhus, to find out how the citizens would like to spend the budget provided for development of green areas and the local library. All the citizens received a special coin that they can use in the machine. The focal point of this project is to enable all the citizens to speak their mind, independently of their social position, age or even their technology usage abilities. The civil engagement uses technology as a tool to lower the barriers as much as possible. To get engaged, the citizens do not need any special equipment or skills.
The project can be used for many different purposes in the future and soon it will engage the citizens in shared economy in another district in Denmark. The team works to make use of even more technology in their next cases and maybe soon smartphones will also enable people to participate.
Learn more!

The Digital Neighbourhood showcase will be open the whole day today (4.06.2015) in Ridehuset, so come and join us and learn more about the civil engagement opportunities of the future.