Sometimes there is more to it than sales and marketing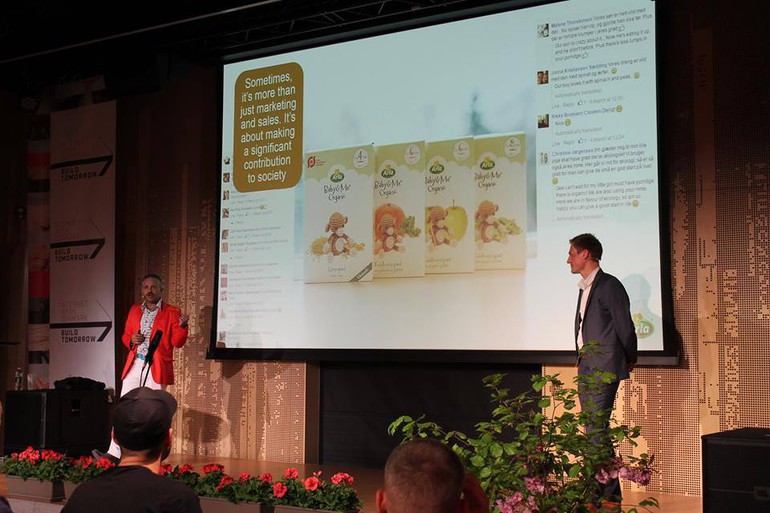 To Arla Foods, digital technology is not only about increasing profit by adding new technology to the production line, it is just as much a tool to interact and co-create with their customers.
Case: Baby & Me Organic
By using a case from the Baby & Me Organic product category, Arun and Oliver took us through an inspiring lesson on how digital technology enables the organization to learn from tracking big data and interact with the customers in order to create better customer value. Customer value is measured in many ways, but to remove customer 'pain' is an overall target.
Agile innovation
Arla Food uses an agile innovation model with 3 major pillars,
Bring the concept into a testable reality – often and quickly
Measure response
Test, learn and improve
By bringing the concept to the customer in a beta version, the costumers becomes co-creators and the challenges and motivations of the customers will be adapted in the development process.
Addressing online forums where the target groups are active is an important tactic to communicate and get feedback from the customers. The customers become involved and feel that they can impact the major issues of consumption within the specific product category. Thus, the customers themselves – in co-creation with Arla Foods – find the cure for their own 'pain'.
A contribution to society
"Sometimes it is not only about marketing and sales, but also about making a contribution to society"
Arun emphasizes in the presentation that customers are more likely to buy brands that in some way contributes to society. They are concerned about the triple bottom line – people, planet and profit, which Arla Foods and other brands have to take in to consideration.
The article is written based on the event: Winning in the Age of the Customer
Presentation by Arun Prabhu, Global Category Director and Oliver Repenning, Senior Manager Digital Development &
Innovation at Arla Foods A/S.