IT, the hero of pregnant women in Aarhus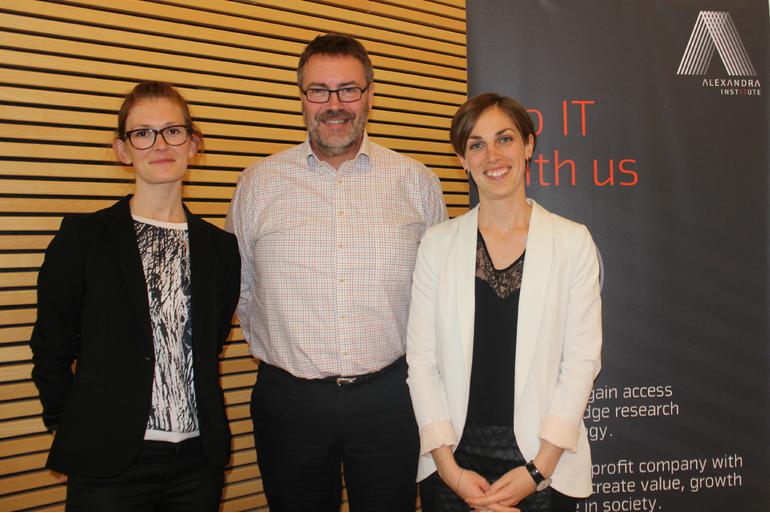 Yesterday at IT-Byen Katrinebjerg, specialists in medicine and IT gave an interesting presentation about what telemedicine is and its future in Denmark. Attendees learnt from a case about the use of technology in complicated pregnancies and interacted with an expert panel.
As a part of the Internet Week Denmark 2015, various specialists from Alexandra Institute and the University Hospital Skejby engaged in an afternoon of debate about experiences in telemedicine and telehealth in Denmark. "Denmark has a healthy population and it is improving the quality of health services with IT", opened Morten Kyng, Dr.scient at Alexandra Institute and Aarhus University. The professor highlighted that this development provides advances without pushing budgets and highly involving patients.
IT applied to medicine allows a high degree of data sharing and connectivity. An example of this is the software Net4Care, used by many private companies. This online resource provides care from a distance and makes it easier for patients to communicate online with doctors.
IT and complicated pregnancies
A very successful case of telemedicine in Aarhus was presented by the anthropologist Sarah Maria Rasch and midwife Katrine Bach. Both work together in a project coordinated by Alexandra Institute and Aarhus University Hospital. The project helps pregnant woman who face complications such us high blood pressure and diabetes. By applying technology developed by Alexandra Institute, the patients can stay at home and do their routine examinations themselves.
Normally, when women need to be treated for complications in their pregnancies, they are pushed to use their time on going to the hospital. This means getting days off at work, use more energy than normal and modifying their routine. "Overall, it impacts family life and represents a loss in life quality", described Katrine Bach.
Telemedicine, in this case, allows the patients to do everything at home. They are trained to measure their blood pressure, control the baby's heartbeat and take their temperature. For this, they are provided with a tablet that can use to record the measures, which are immediately sent to the doctor in the hospital. From the hospital, the doctor monitors it and call the patient if there is a need for extra medical checks.
What is remarkable about this project is that specialists encourage the pregnant women to give opinions, ideas and share their experiences to improve the service. So, the responsibility and involvement of the users is a big element of the project.
By doing this, the hospital is able to provide a high quality service for a healthy and secure pregnancy and also reduce the number of visitors at the hospital, leading to an improvement in the in-house service.
This article was written based on the event: Telemedicine in Denmark - from Past to Present