Disrupt - Redefine, Get Out, and Stand Out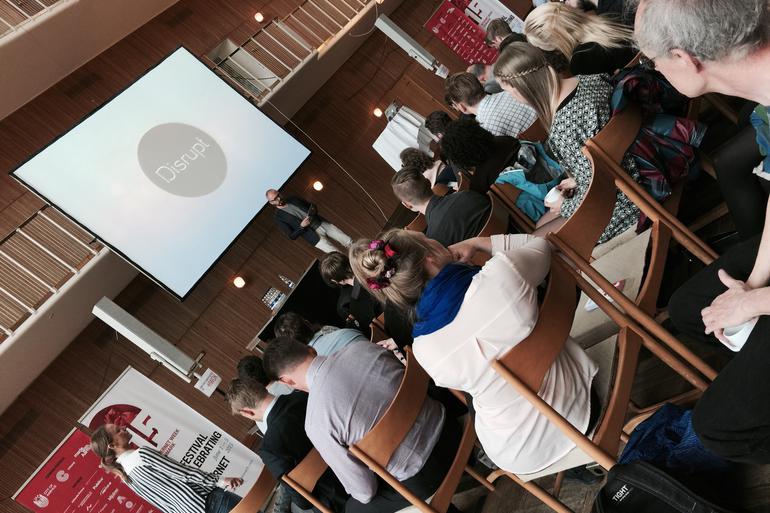 Disruption could literally be translated at a glance as a distraction or a noise. However, in this fast-paced technology's world, "disrupt" means redefining the ways and their direction from they used to be, in a context of an organization from the inside and radical level of changes. These redefinitions will cover the consumers or communities of the organizations that become a part of their system.
Let's see how three companies or StartUps have changed the 'definition' in their particular industry and win the hearts of the communities. Airbnb, an accommodation booking platform which is based in community marketplace just began their debut in 2007 where the founders rented their three air mattresses in their flat in San Francisco and provided home-cooked breakfast for the guests. Who could have thought that now their services is available in more than 190 countries with the total guests of more than 25 million people? They do disruption in an accommodation service. Unlike a hotel with hundreds of hotel rooms, Airbnb is based on communities who are renting their accommodation and most of the times also giving additional values to the guests by serving home-cooked breakfast or showing around in the city. This is totally a different approach or option of accommodation for people or tourists visiting a city.
What is the secret sauce of Airbnb? Aja Guldhammer, Country Director Nordics and Netherland at Airbnb mentioned, "We treat our hosts as our business partners. We want to make sure that they will have the information they need to be good hosts." The example of how they build the community is by conducting local meetups, that can be educational, can be informal, or even just drinking a glass of wine. Moreover, Airbnb is organizing "Airbnb Open" once in a year inviting many hosts from all over the world to share their stories, ideas, and experiences. Airbnb Open 2014 took place in San Francisco with 1,500 hosts being invited.
Disruption according to Aja Guldhammer is something different in offering experiences. In Airbnb it is being translated into different types of accommodation, from castles, penthouses, and even airplane or Galleries Lafayette like the campaign that Airbnb made.
At the end, Aja Guldhammer closed her presentation by saying, "We need insights why people are using our product, what do they like about it. As a Start Up, we need to go out, don't just sit behind the desk."
While for Local Motors, the "Disruption" happens in the way they develop their vehicles. Co-creation in Local Motors, according to Damien Declercq, Executive Vice President EMEA at Local Motors is a process where Local Motors engages with the whole community, designers, engineers, fabricators, and vehicle enthusiasts. Damien added that nowadays there are around 49.000 people from 130 different countries who engage in the platform. And aside of the online platform, Local Motors has microfactories.
"Microfactories is a place where we design, build, and sell vehicles. We provide access to our tools for community members. It is a place where you can come and gain feedback from Local Motors team. Our goal is to build locally-used vehicle", Damien said.
Local Motors also put their interest in technology. They recently created 3D-printed car named "Strati", The World's 1st 3D-printed car. Further than that, nowadays they are doing disruptive innovation by focusing on the community for impactful challenge. They bring forward this challenge in Berlin for the future where now it has too many cars and population. Audiences will be able to participate in a competition organized by Local Motors for designing better transportation in Berlin 2030 here
And finally, the last example of organization that makes a "Disruption" is Kickstarter. Kickstarter cuts every edge of possibility in this creative universe. In Kickstarter, the users create something to share with others. There are 15 categories in Kickstarter with many projects all over the world.
But, what is a Kickstarter Project? Andrew Boyajian, Director of International and Payments at Kickstarter mentioned that there were three requirements that constitute the projects in Kickstarter as below:
"a. Projects must create something in one of our 15 categories to share with others
b. Projects must be honest and clearly presented
c. Projects can't fundraise for charity, offer financial incentives, or involve prohibited items."
Remember Pebble Watch? Until now, Pebble Watch becomes the most-backed Kickstarter project so far with 73,988 people helped it. Moreover, hundreds of restaurants, movie theaters, libraries, parks, and much more were made with Kickstarter. "Every Kickstarter project is a story," Andrew said.
Every great story of a company comes from a thorough work and effort, and many of the companies who can make it are the ones who can listen and engage to their communities and break through the clutters, get out from the normal routines at the same time. Disrupt is the answer.