Are you our new intern?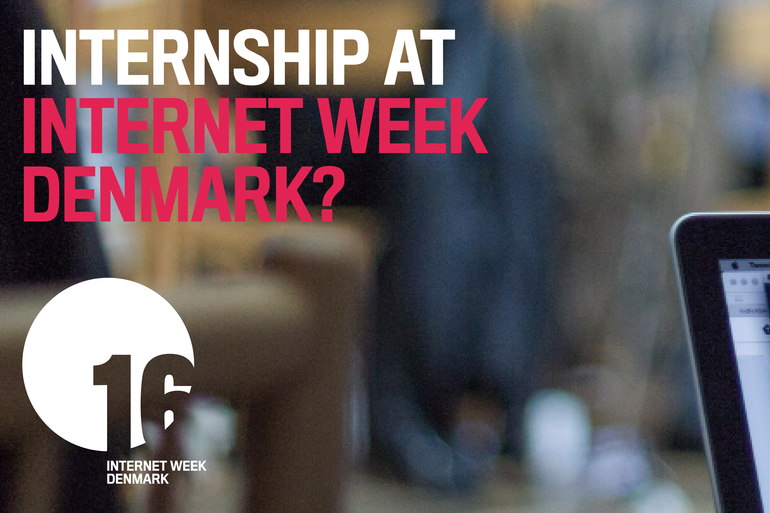 Are you interested in event planning, communication and Social Media? Then you might be our new intern for spring 2016!
WHO ARE WE?
Internet Week Denmark is an annual festival celebrating the internet. The festival is held in and around the City of Aarhus where more than 4500 professionals, students and citizens participate in more than 100 events. The festival celebrates the success and the impact of the internet within innovation, digitalization, business, and our everyday lives.
Read more about the festival here: http://internetweekdenmark.com/2016

YOU WILL GAIN EXPERIENCE WITH:
Communication – writing for social media, newsletter, news articles with more.
Event planning – communicating strategically and the processes behind event planning.
Responsibility for volunteers – managing recruitment
WHO ARE YOU?
We expect that you are a student with a relevant background within communication, experience economy, marketing, journalism or similar. We are looking for an independent and engaged person, who thrives at workplace that changes in relation to assignments and time – every day will not look the same. We are bluntly looking for a person who:
Can communicate adequately verbally and in writing in both Danish and English.
Has an interest in content creation and are willing to work creatively and imaginative with
communication.
Has the ability to advise in connection with managing the volunteers for the festival. • Is a social person that works in an organized and independent way.
Is capable of cooperating with lots of different types of people.
PRACTICAL INFORMATION
Place: Seismonaut, Søndergade 66, 5. sal, 8000 Aarhus C
Period: Medio January 2016 - Ultimo May 2016
Working hours: 37 hours per week
Deadling: 18th of december 2015
Application is send to: nanna@internetweekdenmark.com (please enter "Internship 2016 + your name" in the subject field)
If you would like to know more, please contact Nanna Lund at: nanna@internetweekdenmark.com
Here you can find both English and Danish version of the internship description.