{{current_partner.name}}
{{current_partner.description}}
See website
Event Organizer
IWDK is the platform to meet students and potential employees, brand and expose your company, establish a network while maintaining existing connections, share knowledge with other companies and get new input and ideas for digital business development. Therefore, we encourage you to organize an event and be a part of IWDK 2017.
Important Deadlines
February 6 - deadline for 1st version of printed programme
February 6 is the final deadline for your event to be part of the 1. version of the official printed IWDK programme. You can find your event in "My IWDK" here or submit a new one here.
To get inspiration, see here the printed programme for 2016.
23 February - Launch and distribution of printed programmes at Envision in Aarhus
On February 23, Envison welcomes all of us inside in their beautiful offices in Aarhus to launch the official programme for IWDK 2017. Get your ticket to the afternoon here.
March 2 - deadline for 2nd version of the printed programme
March 2 is the final deadline for your event to be part of the 2. version of the official printed IWDK programme. You can find your event in "My IWDK" here or submit a new one here.
To get inspiration, see here the printed programme for 2016.
9 tips on how to plan a successful event
1) Plan ahead
Start planning your event as early as possible. Contact potential speakers and create an agenda for your event. It is a good idea to find a person in your company, who is responsible for the event and can keep track of time and planning.
2) Be inspired and choose a theme that fits your company
Build your event around one of our five themes; Business, Citizenship, Creative, Marketing and Technology. Be inspired by last year's events here or our presentation about Vision and Mission here
3) Organize an event you wish to participate in yourself
Organizing an event is a good opportunity to create awareness and market your organization. However, we believe it is important to keep focus on sharing your knowledge and competencies with participants. Share your cases, methods or processes, or invite some of your clients or business partners to tell about their previous challenges and how these have been solved.
4) Collaborate
You don't necessarily have to organize an event yourself. IWDK offers a great opportunity to collaborate with and get to know, some of your clients or business partners by organizing a successful event together. Search through your network, get in touch with interesting collaborators and start planning together.
5) Ask us!
At IWDK we have experience in organizing events around our 5 themes. Call us for guidance and a discussion about your ideas. We are happy to help you.
6) Create awareness about your event
Create as much awareness as possible, to make sure to attract a bunch of interesting and engaged participants. Use your own channels such as Facebook and LinkedIn – but don't forget alternative channels, such as your partner's channels, a member magazine etc. Remember to use the official hashtag #IWDK17.
7) Be a good host
Always remember being a good host. Remember to provide the participant with relevant information about the event at the right time. Provide free Wi-Fi, and inform the participant about this. Smile and enjoy hosting a successful event and being able to share your knowledge.
8) Remember all phases of the event
Organizing an event is not only about planning and communicating ahead of the event.
Remember to plan the event in details, so everyone is familiar with their tasks and everything runs smoothly during the event. Always have a plan B, in case you meet obstacles during the event. Evaluation is also an important part of an event, so you make sure to learn from the experience and are able to plan your next event even more successfully.
9) Choose a great location
IWDK has Dokk1 and The City Hall in Aarhus as main venues. We have limited space, but feel free to ask us for available rooms. However, we encourage you to invite participants inside your own building(s). This way, participants will experience your facilities and get a deeper understanding of your working environment, culture and atmosphere.
7 tips to promote your event
1) #IWDK17
Use the official hashtag - #IWDK17 - to get higher reach
2) Tell people in a sweet and short way, what IWDK is all about.
Example:
The crowdsourced festival IWDK (Internet Week Denmark) takes place April 19 - 23, 2017 in and around Aarhus. More than 6000 people join over 100 events for presentations, conversations, and inspiration about how to build a smarter tomorrow.
3) Use photos
Use great pictures for posts, news, etc. If you don't have any, you can find a lot in on our Google+ account
4) Your Event on Facebook
Create you event on Facebook as well. See for instance our facebook event for the Official Opening
5) Make the speaker(s) of your event use the "I'm-speaking-at-IWDK" badge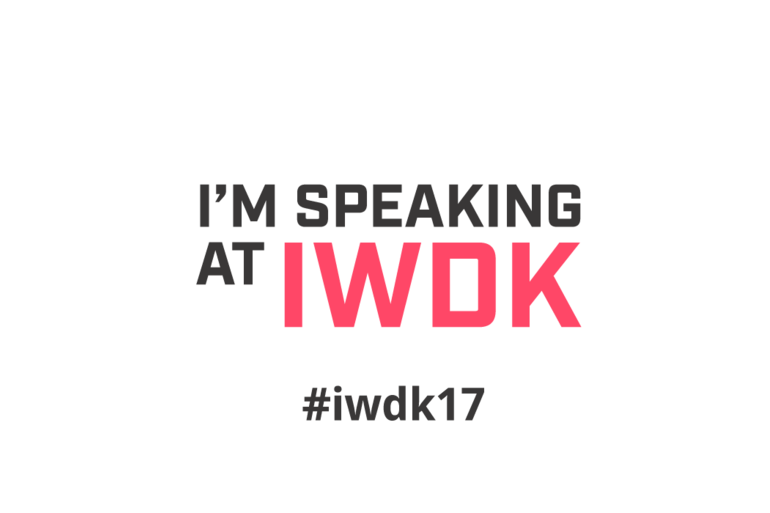 6) Think about how you formulate yourself on social media
Always have focus on the reader by using the words "you", "your", etc.
Make the text more personal with use of "we"
Write short and precise updates in order for the reader to clearly understand your point and message
Ask questions to encourage dialogue and interaction
7) Use beautiful graphics
Use images with text! It's nice to look at and gives you all the needed information in one place. We have made a couple you can use or find inspiration from. Find them here.