{{current_partner.name}}
{{current_partner.description}}
See website
Become A Partner
Do you want to be a part of the leading digital festival in DK with 6000+ attendees and more than 100 events? We are always looking for new partnerships in one way or the other.
Over the three years IWDK is, first and foremost, a story of growth and success. Year after year, the event has surpassed expectations both in the number of participants, the events and partners. Overall, the event has grown into one of the biggest events in Denmark which is focused exclusively on digital transformation, growth and possibilities.
We set the scene for meetings between the greatest minds in the IT industry, digital pioneers, public and educational institutions, and everyone else who has an interest in making the most of tomorrow.
As seen in the following demographics, we host a very diverse crowd: a great mix of professionals, students and citizens, a group spread broadly over age, profession and industries. We are pleased to have them all come together!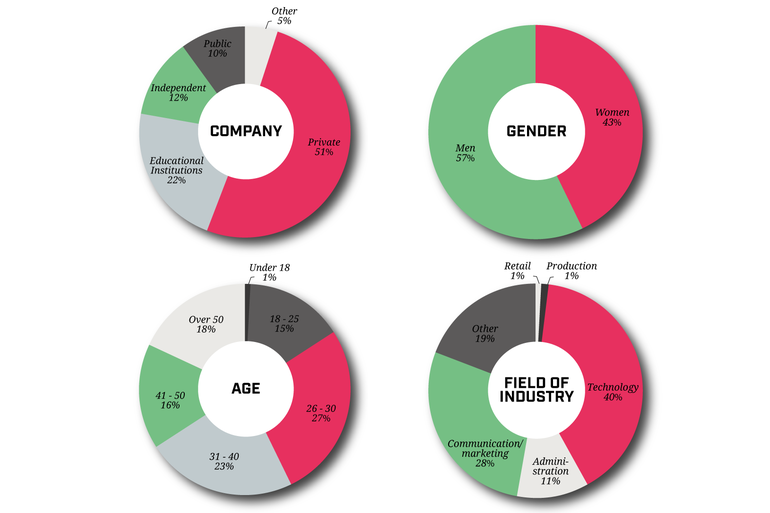 We work individually with all partners to support strategies and goals for each company. Please see conditions and prices for becoming a partner of IWDK, and let us know by contacting Mai Skou Wihlborg (mai@internetweekdenmark.com) how what we can do to establish a partnership.
Download IWDK 2016 Brochure
To show you visually what IWDK is all about, we've created a brochure about the festival held in spring 2016, where you can learn more about the impact the festival has; the media coverage; events hosted; and much more.
Gold Partnership
DKK 100,000
Gold partner is hosting a IWDK flagship event at DOKK1 or Aarhus City Hall

Marketing of Gold partner flagship-event on IWDK platforms and communication channels

Partner logo exposure in Gold category (top of online and off-line material)

6 tickets for the official opening 

2 tickets for the exclusive IWDK lunch after the official opening in Aarhus City Hall, hosted by the mayor of Aarhus Jacob Bundsgaard.

2 tickets for the VIP partner-dinner (app. 50 partner participants)
Silver Partnership
DKK 50,000
Partner is host for one event (1 hour) in DOKK1 or Aarhus City Hall
IWDK facilitates co-peration with other partners about co-events
Partner logo exposure in Silver category (center of online and off-line material)

4 tickets for the official opening
1 ticket for the VIP partner-dinner (app. 50 partner participants)
Bronze Partnership
DKK 15,000
Partner logo exposure in Bronze category (bottom of online and off-line material)

2 tickets for the official opening
1 ticket for the VIP partner-dinner (app. 50 partner participants)